All About Homophones
http://all-about-homophones.com/order.html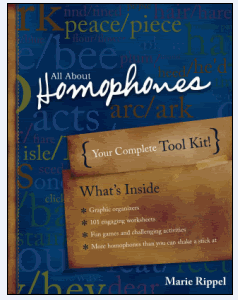 All About Spelling came up with a wonderful supplement called All About Homophones: your Complete Toolkit. This is a 240 page book teaches about homophones, those pesky words that trip up so many kids (and adults for that matter) when spelling them. Homophones are words that sound alike but are spelled differently; like BEAR and BARE, PIECE and PEACE, or THEIR and THERE. This toolkit is just that, a supplemental resource that is used along with your regular language arts curriculum.
All About Homphones is a great toolkit geared towards grades 1-8, that helps teach these tricky words through tons of card games, worksheets, cross word puzzles, and more. There are fun riddles and puns to help reinforce what the child is learning.
There are also sections that contain student record keeping worksheets, tongue twisters, answer keys, lists and an appendix. There is also a homophone machine that you can use to help show children how fun homophones and homonyms can be. You just type in any sentence and it swaps out the words for similar sounding words.... for example: I typed in "I would like to show you my new horse" and out came this sentence "Eye wood like two show ewe my knew hoarse" .
We really had a great time using this program, the games, riddles and puns really held my kids' attentions. This is a fun resource to have to help your struggling spellers with those tricky homophones and homonyms.
You can order this book in either a soft cover copy($29.95) or in ebook format($27.95) through this site:
http://all-about-homophones.com/order.html
You can also view samples at that link.